BYU vs. Texas: The Game That Changed the Course of Texas Football
By Taylor Gaspar

Use your ? ? (arrow) keys to browse more stories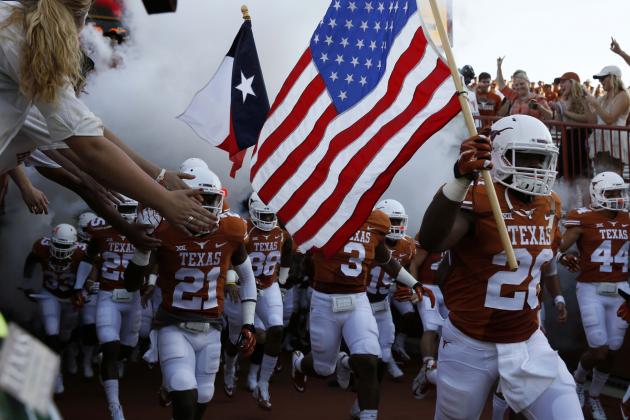 USA TODAY Sports
A storm rolled through Provo, Utah on Sept. 7, 2013, and not the one that caused a two-hour rain delay. This storm was much bigger.
What followed caused one of the biggest shake ups in recent Texas football history.
Dismantled is an accurate word to describe what BYU did to Texas on that Saturday evening. But the destruction was not only seen on the gridiron.
The Texas football program was demolished from top to bottom in 2013.
And it all began on that stormy night in Provo.
The Game 
Embarrassing, shocking, disappointing are three words the Texas Longhorns have used to describe what occurred last season against BYU.
No. 15 Texas was a 7.5-point favorite against unranked BYU, according to Oddsshark.com. But even the experts in Vegas couldn't predict what would play out on the field.
423 rushing yards in 3 quarters?! I don't know if we let that up all season @KeenanRobinson1 @KRan409

— Emmanuel Acho (@thEMANacho) September 8, 2013
BYU quarterback Taysom Hill had a field day against the Longhorns defense, and finished the game with 259 rushing yards and three touchdowns. The defense gave up 550 rushing yards and 679 total yards of offense to the Cougars.
Texas vs. BYU (Sept. 7, 2013)

| | | | | | |
| --- | --- | --- | --- | --- | --- |
| Team | Rushing Yards | Rushing TD | Passing Yards | Passing TD | Total Yards |
| Texas | 132 | 1 | 313 | 2 | 445 |
| BYU | 550 | 4 | 129 | 0 | 679 |
Texassports.com
"I'm still embarrassed about it," defensive back Quandre Diggs said of last season's loss. "You can probably tell in my demeanor that I'm embarrassed and don't really want to talk about it."
"@KennyVaccaro4: …… Are you serious" this game got me sick

— Emmanuel Acho (@thEMANacho) September 8, 2013
MANE!!Not a good look#BYUTho

— Tarell Brown23 (@TarellBrown25) September 8, 2013
Bleacher Report NFL Analyst and former Texas quarterback Chris Simms summed up the performance in one word: Wow.
"It was quite alarming to watch that game unfold," Simms said. "I have great love for Mack Brown and Texas, but that game was a big red flag showing there were a lot of issues down there in Austin. I was worried before the game, but that performance brought me to a whole new level. Any time you see a team physically and schematically dominated like that, there's more than just one issue at hand. It certainly showed me there were issues on the talent level of the players, and a lot of concerns with the coaching."
Brown eliminated one issue when he fired defensive coordinator Manny Diaz following the loss, but it was not enough. The damage was done, and the structure holding up the football program started to crumble.